The Importance of AEDs in Gyms
According to the AHA, more than 350,000 people experience sudden cardiac arrest each year in the United States. Many of these events are likely to take place whilst people are working out due to the high volume of people who occupy gyms throughout each week.
Sadly, the victim cannot always be saved, with the chance of survival decreasing by 10% for every minute that passes without treatment. Ensuring your gym is equipped with at least one AED with staff members who are trained in their use is the best way to prevent deaths occurring as a result of sudden cardiac arrest.
The State of California have equipped all of their fitness centers with AEDs since the California Health and Safety Code, Section 104113 required this from July 2007. In recent years, the following States have also made AEDs a requirement in fitness centers, health clubs and gyms; Arkansas, Iowa, Louisiana, Maryland, Mississippi, Oregon. Find out about your State's AED law requirements with our interactive State Map.
The reason these devices are so important is the timescale in which sudden cardiac arrest requires treatment, time is precious when responding to an emergency and every second counts. Should it happen, there is a crucial 5-minute window that requires immediate treatment with CPR and an AED to give the victim the best chance of survival, so having an AED onsite helps with optimum treatment.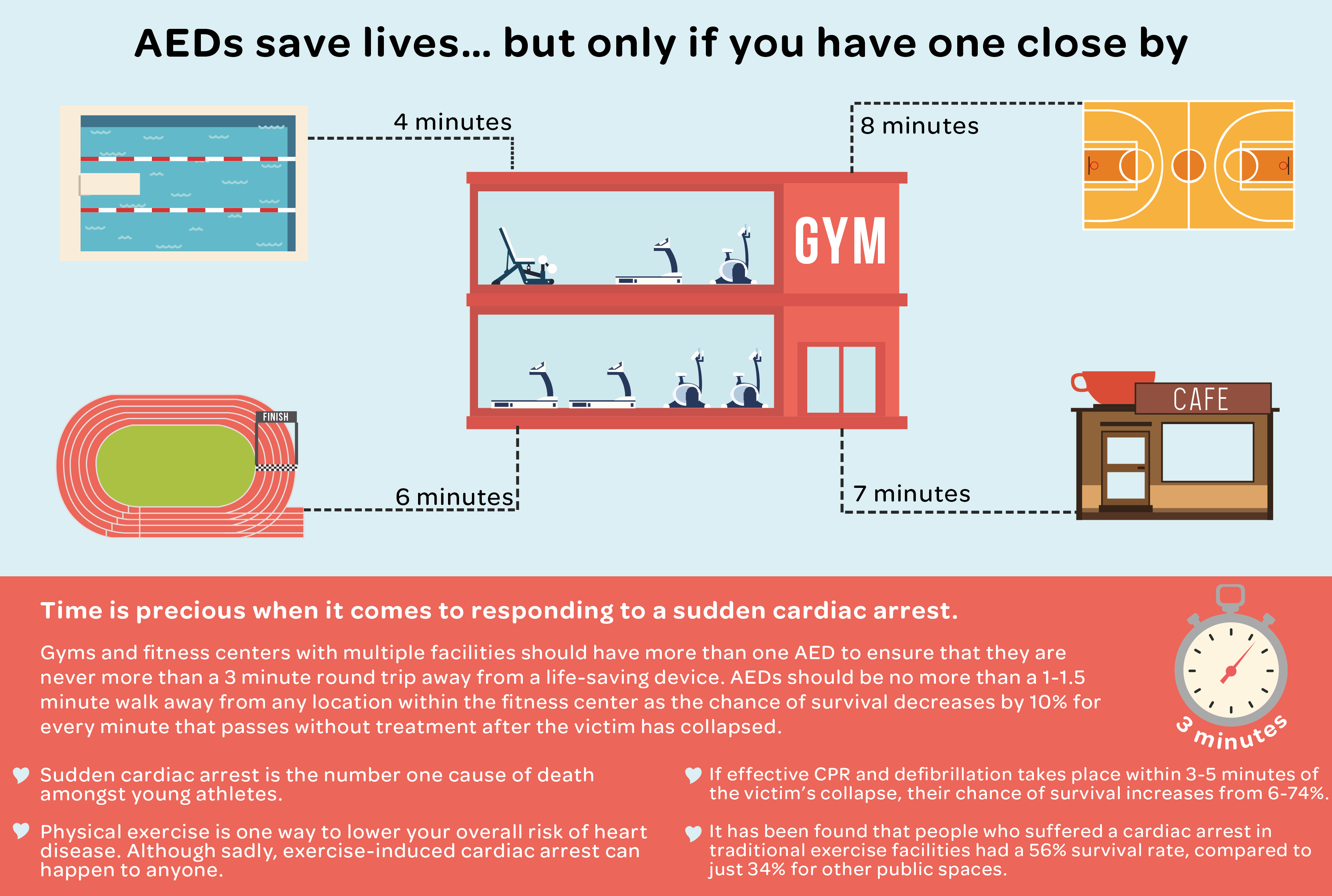 Increase Your Fleet
It is important to remember that AEDs save lives, but only if you have one close by. Gyms and fitness centers with multiple facilities should have more than one AED to ensure that they are never more than a 3-minute round trip away from a life-saving device. AEDs should be no more than a 1-1.5 minute walk away from any location within the fitness center as the chance of survival decreases by 10% for every minute that passes without treatment after the victim has collapsed.
Sudden cardiac arrest is the number one cause of death amongst young athletes
Physical exercise is one way to lower your overall risk of heart disease. Although sadly, exercise-induced cardiac arrest can happen to anyone
It has been found that people who suffered a cardiac arrest in traditional exercise facilities had a 56% survival rate, compared to just 34% for other public spaces
If effective CPR and defibrillation takes place within 3-5 minutes of the victim's collapse, their chance of survival increases from 6-74%
Time to Check Your AED
Are you confident that each one of your AEDs is in a working condition and could be used at any given moment to save the life of someone if they were to suffer a cardiac arrest? Here at the defibshop, we offer a FREE pad and battery reminder service to ensure your device always remains in working order.
AED Program Management should also be considered for managing any number of AEDs and we are able to help with this by offering two levels of support, the defibcare essential program and the defibcare professional program. Afterall, maintaining your device is just as important as it is to own one.
Whether you have one or one hundred AEDs, the following questions are important for anyone that manages AEDs to be able to say 'YES' to:
Are you sure that every one of your AEDs is ready and will work in an emergency?
Do you know your AED's current self-test status?
Do you know when to replace the pads and batteries for each of your AEDs?
Do you know when your responders need to be retrained?
Can you effectively and efficiently review the status of all your AEDs and trainer responders?
With both levels of support, you are guaranteed to be able to say 'YES' to the above questions, and managing your AED(s) could not be any easier.
Staff Who Save Lives
Although anyone can use an AED to potentially save a person's life, AED & CPR training is highly beneficial and will provide Gym Staff with the confidence to be able to respond to an emergency. The safety of your Gym members, staff and visitors is paramount and by ensuring your gym is equipped with AEDs and staff who are trained in their use, anyone who suffers a cardiac arrest on site will have a significantly higher chance of survival.
We're Here to Help
If you think it's time for an upgrade, or if could you benefit from any of the other products and services we offer, call our AED Product Specialists today on 888 820 0760 to discuss the needs of your Gym.